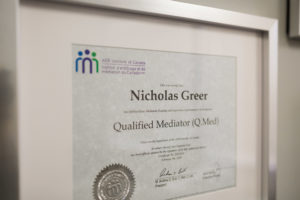 If you've tried talking and haven't been able to resolve a family or workplace dispute, mediation is a great next step.
Mediation involves an independent facilitator assisting parties in reaching a resolution that they can all live with. Mediators undergo extensive training in proven dispute resolution techniques – moving parties past fixed positions into a realm of exploring issues and brainstorming solutions.
Mediation is usually more cost effective, more confidential, and faster than court. And because solutions are not imposed on parties by a judge, but jointly reached, there is usually much higher satisfaction rating with mediation.
We are accredited by the ADR Institute of Canada and Law Society of British Columbia to undertake mediation including family law mediation.
Servicing Nanaimo and central Vancouver Island, contact us today for more information on resolving your matter through mediation. Mediation can occur at our office in downtown Nanaimo or elsewhere as agreed. Parties can be in the same room or in separate rooms (shuttle mediation).
Our cost for costs for conducting intake appointments and mediation are $250 + tax /hr (which can be split between the parties).
Contact us for more information regarding scheduling a mediation session.
Request a First Appointment Now
We offer first appointments for family law and dispute resolution issues. Use our contact form and we will get right back to you. Or call us now on 250-824-1255 to arrange an appointment: