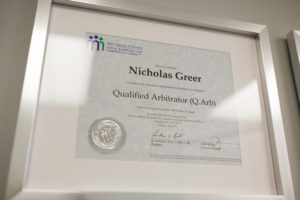 Arbitration is an efficient, private, and cost-effective way to resolve commercial disputes.
In private arbitration, parties retain an independent arbitrator to listen to their dispute and make a binding ruling. The process is often seen as faster, more cost-effective, and more confidential than public litigation.
We are accredited through the ADR Institute of Canada to conduct private arbitration of workplace and commercial disputes (domestic and international).
Arbitration rulings made by a Collaborative Law Corporation arbitrator are recognized under the
Arbitration Act, RSBC 1996, c. 55 for domestic arbitrations and the International Commercial Arbitration Act, RSBC 1996, c. 233 for international arbitrations.
Servicing Nanaimo and much of Vancouver Island, arbitrations can be conducted at our office or at another agreed location.
Each party pays $1500 plus tax to cover the cost of a private arbitration of up to one day duration. Additional days are charged at $1000 plus tax for each party.
Request a First Appointment Now
We offer first appointments for family law and dispute resolution issues. Use our contact form and we will get right back to you. Or call us now on 250-824-1255 to arrange an appointment: